Devoted elected officials and municipal employees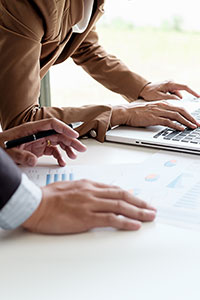 THE ELECTED OFFICIALS AND MUNICIPAL EMPLOYEES OF PORT-DANIEL-GASCONS DO THEIR UTMOST TO PROVIDE SOUND MANAGEMENT FOR THE MUNICIPALITY AND ENSURE ITS DEVELOPMENT. SERVING BOTH RESIDENTS AND BUSINESSES, THEY ARE ATTENTIVE TO THE COMMUNITY'S NEEDS AND WORK WITH LOCAL STAKEHOLDERS AND PRIME MOVERS TO BUILD A BRILLIANT FUTURE FOR THE MUNICIPALITY.
Municipal council
Municipal responsibilities include housing, roads, policing, recreation and culture, parks and green spaces, economic development, land use and urban planning, public transit, fire department, drinking water and water treatment, and waste management. Some of these responsibilities are shared with the RCM of Rocher-Percé or with the provincial government.
The municipality is led by a municipal council consisting of a mayor and six councillors (one per district).
Mayor
Mr. Henri Grenier
Councillor – District No. 1
Mr. Hartley Lepage
Councillor – District No. 2
Ms. Mireille Langlois
Councillor – District No. 3
Mr. Denis Langlois
Councillor – District No. 4
Mr. Marc-Aurèle Blais
Councillor – District No. 5
Ms. Marie-Ève Allain
Councillor – District No. 6
Ms. Sylvie Blais