Living in Port-Daniel–Gascons
An exceptional place to live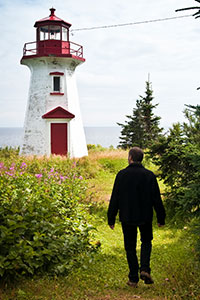 WELCOME TO PORT-DANIEL–GASCONS, ONE OF THE GASPÉSIE'S BEST KEPT SECRETS. A VIBRANT COMMUNITY, AN ENCHANTING SETTING, AND A DYNAMIC BUSINESS COMMUNITY: THE FUTURE IS BRIGHT IN PORT-DANIEL-GASCONS!
Vision

In 2030, Port-Daniel–Gascons will be recognized throughout the Gaspé Peninsula for responsible and sustainable management of its development. The municipality will support and foster a vibrant local economy and provide a friendly and lively environment for all members of the community. The municipality will attract and welcome visitors by offering them attractions that meet their expectations. Through transparent governance and by involving the entire community, the municipality will help create an attractive and welcoming place to live that is a true reflection of its bountiful natural surroundings. (Source: Strategic development planning (PDF; French only))
History
Port-Daniel–Gascons was created in 2001 by the merger of the parish of Sainte-Germaine-de-l'Anse-aux-Gascons and the municipality of Port-Daniel.
In 1845, the township of Port-Daniel was created on the southern coast of the Gaspé Peninsula, midway between Paspébiac and Newport. Port-Daniel owes its name to Charles Daniel, a merchant from Dieppe who was a member of the Compagnie des Cent-Associés and travelled to New France as a ship's captain. The Mi'kmaq called the place Epsegeneg, meaning "place where one gets warm," because they appreciated the excellent wind protection afforded by the sandbars and tidal lagoons behind which they made their camps.
At the beginning of the 19th century, people from Scotland settled in Port-Daniel. Immigrants from Ireland, England, Jersey, Acadia and France gradually populated the area. In 1825, Port-Daniel had at total of about 825 inhabitants, mostly the families of farmers, lumberjacks and fishermen. In 1847, American businessmen opened a lobster cannery and the post office began service for the first time. In 1840, English-speaking settlers built religious institutions such as St. James Anglican Church and St. Andrew's United Church. The Catholic parish of Saint-Georges-de-Port-Daniel was founded in 1855.
The name Gascons comes from a sailor from Gascony in France who is believed to have clung to the wreck of a ship until it reached the shore in the cove – the cove that has since been named for the people of Gascony, or the Gascons. Around 1850, the area was home to settlers from Gascony, Normandy, Acadia, the Basque country and the island of Jersey. In 1899, the parish of Sainte-Germaine-de-l'Anse-aux-Gascons was canonically erected. Known locally as simply Gascons, the parish later gave its name to the parish municipality officially created in 1902.
The municipality's development has long been closely tied to the development of the fishing, tourism and mining industries.