Investing in Port-Daniel–Gascons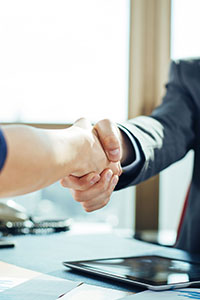 WITH ITS BRAND NEW CEMENT PLANT – THE LARGEST AND MOST EFFICIENT IN QUEBEC – THE LOCAL ECONOMY IN PORT-DANIEL–GASCONS IS STRONGER AND MORE DIVERSIFIED THAN EVER. THE FUTURE LOOKS BRIGHT FOR THE MUNICIPALITY, WHICH IS WORKING ON THIRTEEN PROMISING DEVELOPMENT PROJECTS CHOSEN BY THE PEOPLE OF THE COMMUNITY.
Current and future projects
The opening of the cement plant in 2017 brings a breath of fresh air to the municipality's economy: new jobs, a substantial boost to municipal tax revenues, a major client for local businesses, and business opportunities.
In 2015, residents were consulted about their views on the community's development. This process helped identify and prioritize thirteen projects that will foster and support the quality of life, living environment and standard of living in our community (see the summary of the strategic development plan, in French only; PDF). These varied projects include specific actions aimed at developing tourism, promoting the industrial sector, and enhancing community services, and will involve considerable municipal investments while offering significant business opportunities.
Would you like to invest in Port-Daniel–Gascons? Give us a call!
We'll be happy to guide you through the process.
For more information contact: City manager:   418-396-5225  ext. 7   option 3